1.
Wildkin Olive Kids Trains, Planes and Trucks Sleeping Bag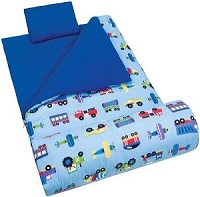 Most little boys have a love for either trucks, trains or planes, if not all three. Therefore, your young man will love this reversible sleeping bag by Wildkin which has a solid color on one side and a multicolored print of trains, planes and trucks on the other side. Soft cushioning and a matching travel pillow make this a comfortable sleeping bag for your child to use at sleepovers any time of the year.
Lightweight, it is easy for kids to carry themselves if they decide to go to a sleepover with friends. This a great gift for grandma to give to the grandsons for their first sleepover or for naptime at daycare.
This Wildkin Sleeping Bag measures 66" long and is designed to fit children up to 5 feet tall.
The colors on this bag will make it blend in with most any child's bedroom decor.
Available Online at: Ebay
---
2. Wildkin Camouflage Sleeping Bag for Boys with Pillow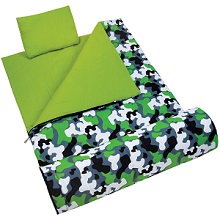 For the boy who thinks about the outdoors all the time this camouflage sleeping bag by Wildkin will be a favorite. This bag features a bold camouflage print on poly/cotton fabric with a solid color interior lining and a matching solid travel pillow to top off the best in comfort. The designs are reversible.
These childrens indooor sleeping bags measure 66" long allowing them to accomodate children up to 5 feet tall.
Rolls up easily and can be stored and transported inside a matching camo printed stuff sack with a cinch cord closure. You can machine was it on gentle cycle in cold water.

Available Online at: Ebay
3. Melissa & Doug Augie Alligator Toddler Sleeping Bag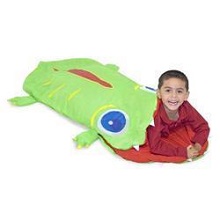 This Augie Alligator sleeping bag by Melissa & Doug is designed to resemble an alligator's body. He will help keep the monsters away while your little one sleeps tucked inside.
Your son will find the toothy grin, attached feet, warm blue eyes and soft padding nothing but friendly and fun. Your little fellow will have a blast slipping into the alligator's mouth for a good night's sleep.
Kids love to have their bright colored alligator sleeping bag close by while on trips away from home. Of course, they are also protected by their gator when on sleepovers and outdoor camping.
Available Online at: Ebay
---
4. Everest Mummy Cold Weather Sleeping Bags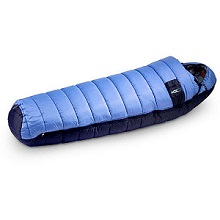 On the coldest of nights your son can stay warm while camping or hiking. These mummy style sleeping bags cover your head and shoulders with a soft insulating layer providing added protection and warmth while still allowing you to breath freely.
The cold weather Everest Mummy Bag comes with a compression stuff sack for transportation and storage.
Double-layer construction makes this one of the warmest designs in sleeping bags. You will never feel the discomfort of "cold spots" where the fabric is sewn through.

Available Online at: Walmart
---
5. Wildkin Out of This World 66" Sleeping Bag - Great for Living Room Campsites, Sleepovers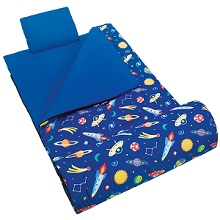 This is another of the Wildkin's sleeping bags that kids love. One side of this reversible Out of this World bag is a colorful, fun outer space themed print pattern and the other side is a bright blue color.
Like other Wildkin sleeping bags shown here this one comes with a matching travel pillow.
All the Wildkin's bags are a favorite with preschools, daycares, for living room lounging, visits to the grandparents house and simply as a starter sleeping bag for kids.
Available Online at: Ebay
---
6. Olive Kids Robots Sleeping Bag with Matching Travel Pillow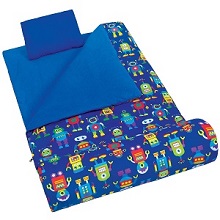 This is another great Wildkin Sleeping Bag but with a fun, robot-themed print pattern on one side and a solid blue color on the other side.
This sleeping bag also opens flat to easily top a bed, is flame-ressitant and machine-washable. Comes with a blue matching travel pillow. As with other Wildkin sleeping bags it is lightweight, has a thick and durable cotton/polyester exterior and is lined with 100% cozy cotton flannel interior.
Young boys love to not only sleep in these bags but to also just play in them alone or with a friend.
Available Online at: Ebay
---
7. Kelty Big Dipper 30 Sleeping Bag, 30 Degree Synthetic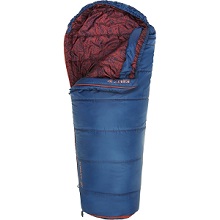 Make sure your son or daughter is warm and cozy each night on their outdoor camping adventure. Featuring Cloudloft insulation and offset quilt construction makes this sleeping bag great for that extra warmth on chilly nights.
An expandable footbox lengthens the bag by 12 inches so it grows with your child for several years of service. Locking zipper has sliders at the top and bottom for venting.
With this bag you get a custom color stuff sack for easy storage and transport.
Available Online at: Ebay
---
8. Kid Grizzly Purple or Black Kids Sleeping Bags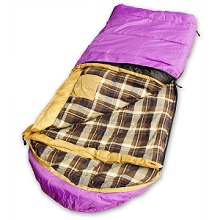 This Grizzly Kids Sleeping Bag is sized for children but has all the same great features as the adult bags. Your boy will love the coziness of this bag with its soft flannel lining. For additional comfort and warmth it has a windstop wall backing up the zipper and a hood to cradle the head.
The comfort and warmth of this Grizzly sleeping bag will get your son started on a lifelong love of the great outdoors.
This bag is 30 inches wide and 70 inches from top of hood to foot and weighs 5.1 lbs. It is machine washable on gentle cycle with hang to dry.
Available Online at: Overstock
---
9. Marvel Ultimate Spiderman Sleeping Bag and Backpack Combo Set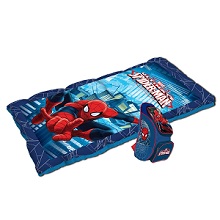 If your young man is a Spiderman fan then he will love this Marvel Ultimate Spiderman Sleeping Bag and Backpack Set. He can doze off to sleep while invisioning himself with all his spider-related abilities and his "web-shooters" while knowing he can react to danger quicly with his "spider-sense".



This Spiderman Sleeping Bag measures 28 inches x 56 inches and it fits neatly into a durable and fun Ultimate Spiderman backpack.

A good conversations starter for he and all his friends while preparing to nap at daycare and sleepovers at a friend's house.

Available Online at: Ebay
---
10. Coleman Boys Youth Rectangle Sleeping Bag - Blue Camo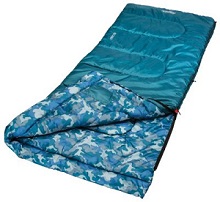 Young boys love the camouflage design of this Coleman youth sleeping bag with a durable polyester cover and liner and patented durable no-snag zipper.
A comfort cuff surrounds your child's face with softness and fits boys up to 5 feet tall. Bag features an interior pocket for safekeeping of small items.
A nice feature of this Coleman sleeping bag is the Roll Control. It simplifies packing by locking the edges of the bag together to keep the bag straight as it is rolled up.
A feature that is great for kids is the ZipPlow. This zipper guide to push fabric away from the zipper's teeth for snag-free opening and closing.
Available Online at: Ebay
---
11. GigaTent Cozy Cuddler Kids' Pirate Sleeping Bag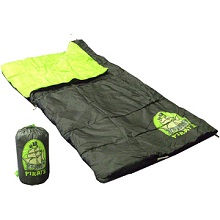 The Gigatent Pirate Sleeping Bag will have your child ready to sail the seven seas in his sleep. It has a pirate ship design and a matching backpack. It is great for overnight trips and sleepovers.
This sleeping bag is made from durable polyester with fluffy insulation that will keep your boy warm in normal conditions. It has vibrant colors that kids love.
He can simply roll his sleeping bag up, put it in his backpack and sling it over his shoulders and off he goes to his next adventure. The backpack has a top drawstring to help keep items secure.
Gigatent specializes in making quality family tents and accessories, such as cots, tables, chairs, sleeping bags and shelter for your pets. Their products are known for being made to last.
Available Online at: Ebay
---
12. Wenzel Boys Moose 40 Degree Sleeping Bag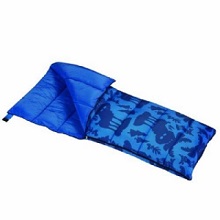 Any young man will get the camping spirit when he has this fun and colorful blue pattern Moose sleeping bag. He will be cozy and warm in this sleeping bag which has quilt through construction with Insul-Therm fill and is rated for 40 degree weather.
For warmer nights this bag unzips to convert to a blanket for sleeping.
Large two-way main zipper, offers versatile venting and bag measures 26 inches by 66 inches.
Available Online at: Overstock
---