Oversized Big Heavy Duty Folding Camping Chair Ideas
Jan. 10, 2021 - You may not be oversized yourself but you may still like your heavy duty folding camping chair to be large and comfortable. Not only can you enjoy your big folding chair but any guest you have, no matter their size, will be able to sit and enjoy your chair while visiting with you. An oversized foldable chair like these will collapse for easy storage and transportation when you find yourself on the go and need to take your camping chair with you. These heavy duty chairs will accomodate a weight capacity from 250 lbs. up to 600 lbs. so you can sit in comfort while indoors or outdoors at the camp site.
These chairs are not only oversized but have a variety of other features like a shade canopy, footrest, padded for sitting comfort and back support, wide seats, multiple drink holders, cell phone holder, adjustable arm rests and more.
Oversized Heavy Duty Folding Camping Chairs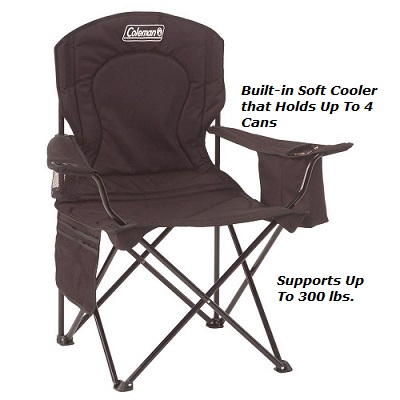 Having a cold drink at hand as soon as you sit down in the comfort of your Oversized Coleman Quad Chair with cooler and cup holder is just delightful. Not just one drink holder but up to 5 drinks in case you want to sit for a while watching your favorite outdoor sport or concert. The armrest has a built-in soft cooler that holds up to 4 cans and the mesh cup holder keeps another beverage close at hand.
Sit comfortable for hours in this folding chair with a heavy-duty steel frame (supports up to 300 lbs. weight capacity ) and padded seat and back rest. When the fun is over and done with, this oversized chair easily folds up into a carry bag for easy transport and storage.
Available Online at: Ebay.com
---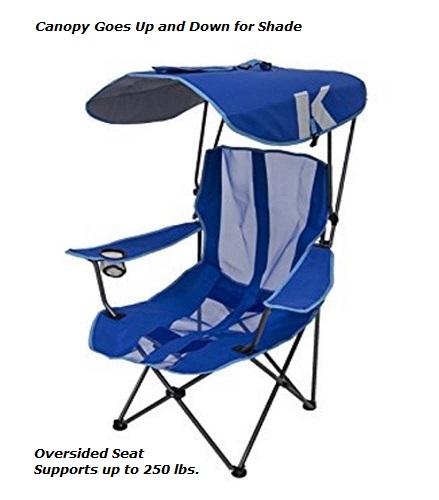 Convert your quad-style camp chair into your own personal Oasis in the shade with this Kelsyus Oversized Quad Folding Chair with Canopy Shade Cover . The canopy portects you from the elements with 50+ UPF and goes up or down for shade or sun.
The Kelsyus original canopy chair doesn't need a bag because when it is folded the canopy becomes the carry case secured by a durable snap-lock buckle and the attached shoulder strap provides hands free portability.
You will enjoy the comfort of the oversized seat with rounded front for more ergonomic comfort. There is a large cup holder with O-ring for stability and a sturdy powder coated steel frame which supports up to 250 lbs. of weight.
Available Online at: Ebay.com Target.com
---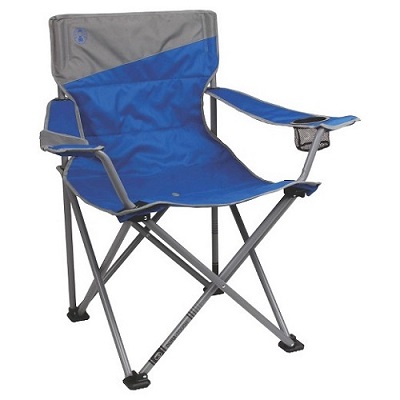 Plenty of room to relax in this giant Oversized Coleman Big n Tall Quad Chair that supports up to 600 lbs. of weight. The seat drain system empties any standing water that can collect from rain or dew to help provide a dry place to sit.
The CellPort water-resistant cell phone sleeve on the arm lets you slip your phone into a protective, clear PVC case that provides full use of touchscreen displays. The media pocket in the phone sleeve flap gives you extra storage for headphones, a digital music player or other small items.
The fully cushioned seat and back along with your oversized insulated cup holder for your favorite drink and adjustable arm heights only add to your seating comfort.
Take this chair with you camping, to sporting events, car shows, the beach and most anywhere you go that you want to just sit and relax a while.
Available Online at: Ebay.com Target.com
---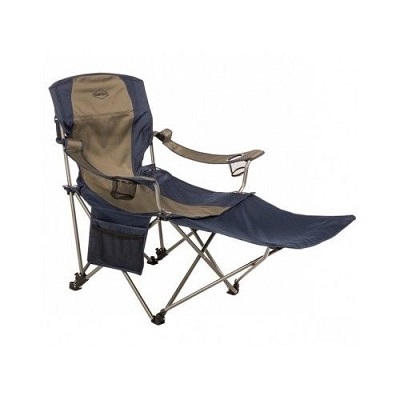 If you like to prop your feet up while resting in your folding camp chair then you will love the Kamprite Heavy Duty Folding Camping Chair with a high back and detachable footrest. If you want to pull your chair up to the camp table then just detach the footrest and have a standard folding camping chair.
You can adjust the back to recline, doses not lay flat. Has two cup holders for your favorite beverages. Storage sleeve for reading material, bug spray and other small personal items.
The powder coated steel frame folds easily to store in a convenient carry bag with side handle and holds up to a 300 lb. weight capacity.
Available Online at: Ebay.com Target.com
---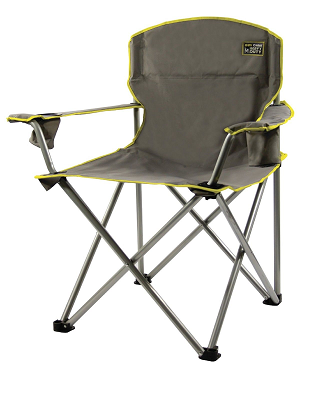 This perfectly portable folding oversized 500 lb. capacity arm chair sets up in less than a minute and goes everywhere you go so you can sit and relax at the beach, camping, hiking or at your favorite outdoor concert in your Quik Shade Folding Quad Camp Chair.
It features a sturdy steel frame designed with an oversized seat and back for optimum comfort and stability to last you through years of picnics, campfire, tailgating, barbecues or simply lounging in your own back yard.
Easily folds up to fit into an included carry bag with a shoulder strap for convenience and transportability. Has full armrests with 2 all-fabric cup holders for your favorite drinks. Fabric is moisture and stain resistant. Seat is 18" from the ground and supports up to 500 lbs. in weight capacity while weighing only 9 lbs. itself.
Available Online at: Ebay.com Overstock.com
---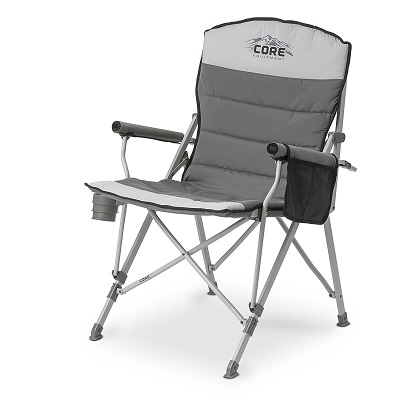 Featuring a sturdy steel frame and a 300 lb. weight capacity the CORE Padded Hard Arm Folding Chair has a plush quilted seat made from 600D brushed polyester. Padded hard arms provide extra support and comfort.
You can keep everything organized and close at hand with the collapsible oversized cup holder and built-in gear pocket. It comes with a carry bag and carry strap for easy transport and storage.
Sit comfortably while camping, at sporting events, concerts, tailgating and just backyard hangouts in the CORE Padded Hard Arm Chair with its quilted seat and sturdy frame.
Available Online at: Ebay.com
---
You will enjoy the extra wide disk design of the Ozark Trail Oversized Cozy Camp Chair with its mesh seat and back for better ventilation to help keep you cool. For maximum support and comfort their is an attached headrest.
The Cozy Camp Chair features easy setup for convenient use while camping or other outdoor events. Storage and transport are a snap with the included carry bag and carry strap.
Has a durable steel frame and supports up to 300 lbs. in weight capacity. Chair is lightweight and comfortable and easy to setup. Great chair to curl up in and read a magazine or book. Also great chair for your child's school dorm room.
Dimensions: 37" x 34" x 35".
Available Online at: Ebay.com
---
Just a few safety points to be conscience of when using your folding camp chairs.
Know the weight capacity of your chair and the weight of the person about to sit in it.
Don't let children that are too small for the chair play or try to climb into the chair. Even though they are usually lightweight and would not necessarily cause serious injury to a child, they could still get injured from falling out of the chair.
If you plan to use your chair outside make sure it is rated as an outside chair and will be able to survive the elements.
If you are going to be fishing from your chair you want to make sure your chair has adjustable legs because most fishing banks are uneven surfaces. It is also nice to have a fishing chair with a rod holder so you can rest your arms at times also.
7 Oversized Folding Camping Chairs at a Glance...