Inflatable Beds Home | Listed in Category: Oversized Big Camping Chairs, Quik Shade Big Folding Camping Chair
People Who Viewed Quik Shade Heavy Duty Folding Camp Quad Chair Also Viewed...
---
Quik Chair Extra Heavy Duty Oversized Folding Camping Quad Arm Chair, 500 lbs Weight Capacity ...

Relax anywhere you like in the Quik Shade Folding Quad Camp Chair because it is the perfectly portable armchair that goes anywhere you do.
Folding chair sets up in less than a minute without the need for tools.
When you are ready to go the Quik Shade Heavy Duty Folding Chair quickly and easily folds up to fit into an included carry bag with a shoulder strap for convenient transport.
The full armrests feature 2 all-fabric cup holders to keep your drinks close at hand.
The heavy-duty 600D polyester construction is moisture and stain resistant; easy to wipe clean.
This chair features a sturdy steel frame designed with an oversized seat and back for optimum comfort and stability.
A folding camp chair that supports up to 500 lbs. while weighing only 9 lbs. itself.
When assembled, chair measures 24.8" L x 35" W x 38.5" H and seat is 18" from the ground.
Portable large folding armchair with easy pop-up assembly for use when camping, tailgating, at the beach, on your patio, outdoor concerts and most anywhere that you would just like to rest comfortably for a while.

Available Online at: Ebay.com
---
Additional Folding Camping Chair Accessory Items:
---
QuikShade is located at 150 Callender Rd, Watertown, CT 06795 - Phone: 1-888-288-2345 - Email: care@shelterlogic.com
Contact Website Page: https://www.quikshade.com/contact
---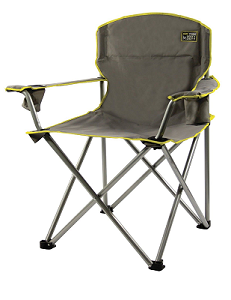 Jan. 2, 2021 - This folding Quik Chair is moisture and stain resistant and easy to wipe clean if spills occur. With its 25 inch wide oversized seat and large diameter steel tubing for extra strength it is made to be comfortable for even the large built person. It easily folds compactly and fits in an included carry bag with a strap. This is the perfect folding chair for the heavy set person to use at outdoor concerts, picnics, tailgating, parks, camping, etc.
Available Online At: Ebay.com
---
Related Searches
Oversized Big Camping Chairs 4 Person Tent 2 Person Tent
---
Links to Other Sites.....
If your folding chair is going camping then your pet may also be going along. Before you go check out one of these dog car seat protectors for the front or back seat of your car or truck.

If planning a camping trip consider the beautiful parks in Tennessee.
During your camping trip you will want everyone to sleep comfortable and warm. Take a look at these sleeping bags for adults and young boys and girls.
"CSP, Inc. is a participant in the Target Affiliate Marketing Program, an affiliate advertising and marketing program that pays advertising fees to sites that advertise and link to Target.com."
"Affiliate Disclosure: Most of the links on this site to other retailer sites are affiliate links, which means that if you click on the link and make a purchase at that site I will receive a commission on your purchase. I appreciate and Thank You for your support."