Featured Portable Hot Tub - Intex PureSpa 4-Person Inflatable Bubble Jet Spa Portable Hot Tub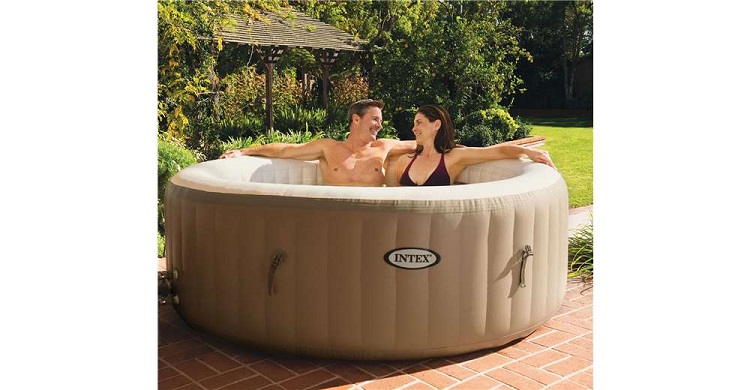 You can relax after a long day of work either at home or at the office in the Intex PureSpa Inflatable Bubble Jet Therapy Spa Portable Hot Tub. This spa / hot tub is comfortable enough for 4 people.
With the touch of a button you can adjust the temperature to that which suits your comfort level and also activate the 120 high-powered, soothing bubble jets that surrond the interior of the spa. The durable Fiber-Tech™ Construction including 48 Fiber-Tech™ beams are strong enough to take a seat on the side and just dip your feet in.
This Intex PureSpa portable hot tub holds 210 gallons of water, has a temperature range from 68 degrees to 104 degrees and the maintenance is simple with just 2 easy-to-replace filter cartridges providing you clean refreshing spa water. The built-in hard water treatment system makes water gentler on your skin and clothes for a smoothing experience.
Treat yourself to a bubbly massage or just relax for a while in this Intex PureSpa Bubble Therapy Inflatable Spa. It will be ready for water in about 20 minutes. It can be deflated for easy storage or transport.
PureSpa heats the air prior to bubbling through the water which heats the water more effectively and the efficient heating systems keeps the cost of usage of your spa low.
There is an insulated cover and lock included to minimize heat loss and provides added safety from unwanted visitors in your spa. Also, a thick thermal protective ground cloth helps minimize heat loss and protects the bottom of the spa.
Approximate inflated Inner / Outer Diameter: 58" / 75" Height: 28".
Complete Hot Tub Package includes:
PureSpa Hot Tub Unit
Spa Insulated Cover
Heating System
3-way water test strips
10W hard water system
Filtration system with 2 filter cartridges
Floating pool chlorine dispenser
Thermal ground cloth
Inflation hose
Cover straps with child security lock
Find the Intex PureSpa Inflatable Hot Tub at: Ebay.com