Relaxing In An Inflatable Portable Hot Tub Spa
Oct 4, 2019 - Many people find sitting in a hot tub or spa to be very relaxing but they find owning one to be too expensive. An alternative for getting that relaxation time is an inflatable hot tub or spa. This is a much less expensive way to enjoy relaxing while sitting in your own hot tub or spa.
Some people enjoy sitting in small two person hot tubs alone or with a friend, while others like to get a larger group together to enjoy relaxing and talking while in their hot tub.
Enjoy an Inflatable Hot Tub, Jacuzzi, Spa soon. Check out the best featured hot tub, spas below.
Popular Inflatable Hot Tubs For Soothing Relaxation
This Lay-Z-Spa Miami Inflatable hot tub is the affordable, go anywhere spa which can comfortably accommodate up to 4 adults.
It is a fully portable, inflatable hot tub that can be easily set up either indoors or outdoors within minutes.
The Lay-Z-Spa Miami requires no tools or professional installation.
With its soothing 104 degree F water temperature and massage jets, the Lay-Z-Spa Miami hot tub is perfect for soaking sore muscles, unwinding after a hard day at work or even as a luxurious and romantic treat for you and your partner to enjoy.
There is a digital control panel that allows you to turn up the heat without exiting the tub.
Comes with a cover to maintain optimal water temperature.
Dimensions of inflated tub: 71" x 26"

The Coleman Lay-Z-Spa features a Digital Control Panel with an automatic Start/Stop timer-controlled heating system.
Just set the temperature you want and activate the Lay-Z message system for a relaxing and comfortable spa experience.
Outer walls of the inflatable hot tub are made from fabric coated material and the cover has an aluminum foil coating to keep water extra warm.
The Coleman Lay-Z Spa features a separate air pad cushioned floor which sits underneath the spa. This helps with insulation and minimizing the loss of heat through the base of the spa.
Uses I-Beam construction which allows users to sit on the sides without the hot tub bending or buckling.
Capacity: 4 to 6 people.
Max Heat: 104 degrees F

The outer-shell is constructed from a durable synthetic material, making for a highly durable and aesthetically stunning spa.
This inflatble spa is also lined with a special heat retention material.
The complete spa package is contained in one box making it as portable as it is easy to assemble (no tools needed).
Seating: 2 adults + 2 kids.
Water capacity: 185 gallons
The Palm Springs Inflatable Home Pro Clasic Jet Spa has 88 air jets.
Heats up to 104 degrees.
Includes a body cover for added protection.
Plugs into household standard AC outlet equipped with GFCI.
Reasonably priced and a great way to relax at home.
Relax in the Intex Pure Spa 4 Person Portable Bubble Hot Tub.
With the touch of a button activate the 4 high-powered performance jets that surround the interior of the spa or adjust the temperature that best suits your comfort level.
This hot tub provides simple maintenance with 2 easy to replace filter cartridges for clean refreshing spa water.
The built-in hard water treatment system makes water gentler on skin for a soothing experience.
The construction of the PureSpa is strong enough to take a seat on the side when all you want to do is take a dip with your feet.
Seating capacity: Up to 4 adults.
Water capacity: 210 gallons
Water Temperature range: 68 degrees to 104 degrees.

This portable inflatable spa by Homax uses high quality and durable materials to provide long lasting relaxation for up to 6 persons.
Easily inflates for any space.
Easy to Power with Standard 110V plug.
130 Air jets for all around massage action.
Hot tub zip closed protective cover included.
Temperature Range: 68 F to 104 F
Volume: 264 Gallons
Dimensions: 82" (outer diameter), 63" (inner diameter), 25.6" (height).
Color: Light Grey
Shape: Round
Comes with 2 filter cartridges and 1 bottle of water test strips.
The built-in hard water treatment system of this hot tub makes water gentler on skin.
It self inflates and sets up in minutes.
Nice Jacuzzi in your back yard.

Enjoy the soothing, natural health benefits of an inflatable Super Camaro B-150 portable bubble spa by M-SPA.
These portable bubble spas have a patented build-in Control Box with Touch Button Controls.
Premium tough PVC leather-luxury black crocodile pattern fabric cover with satin golden trim and embossed M-Spa logo.
Build-in heater with 104 degree F max heat temperature.
130 Air Bubble Jets.
Water capacity: 245 Gallons
Uses standard household outlet.
Easy to setup and take down.
Versatile Pool, Hot Tub or Anywhere Light.
Hassle-free, waterproof and portable lighting.
These solar lights inflate just like ar pool toy.
This light not only works for pool and hot tubs but also for camping, backpacking, hiking, sailing, rescue, parties, and many other places that inexpensive solar lighting lanterns are needed.
This inflatable lantern is recharged by either sunlight or ambient (inside) light.
Full charge time is 6-8 hours in full sunlight, delivering 6-12 hours of light emitting 90 bright lumens and 15 square feet of light coverage.
Includes battery-level indicator light.
Made of durable pvc, these lanterns can float, as well as sit out in the weather and still work.

The PureSpa cup holder and refreshment tray is designed to securely attach to the PureSpa inflatable hot tub spa wall.
Keeps your beverages and snacks close by while you relax in your spa.
Removable for convenience.
Lightweigh, Folds, Easy to carry.
Dimensions: 10-1/4" L x 8-5/8" W x 7" H

The PureSpa seat allows you to sit comfortably in the spa, raising a person's height with two different height options.
Removable for convenience.
Slip resistant.
Dimensions: 18.5 L x 14 W x 8.625 H.
Suitable for soft cushioned inflatable spa tub.
Heavy duty, large and comfortable spa seat.
Easy to move around in the hot tub.
The Vanish Spa is light-weight, portable and easy to assemble.
You can set this hot tub up quickly whenever you want to relax, whether that is in your backyard, deck, in the woods or inside the comfort of your own home.
Take the luxury of a personal spa with you wherever you go like road trips, camping trips and sporting events.
The Vanish Spa hot tub quickly heats up to 104 degrees Fahrenheit.
Features 88 jets, allowing you to improve blood circulation and reduce muscle soreness.
Built-in cushioned, thermal padded floor.
Camo color blends in to the outdoors.
Matching cover with inflatable lid.

This Homax Inflatable Hot Tub Spa self-inflates in minutes; setup is a breeze without any tools.
Spa has an easy to use control panel.
Lightweight hot tub that is easy to carry anywhere. Folds up with ease for storage or travel.
Massaging bubble system with 130 air jets. Pamper yourself in relaxing heated water surrounded by soothing bubble jets.
This spa provides simple maintenance with 2 easy-to-replace filter cartridges for clean refreshing spa water.
The built-in hard water treatment system makes water gentler on skin for a soothing experience.
Seating capacity of spa is 2 people

Get laughs from your friends with these Flamingo Floating drink holders.
Let them laugh; you will always conveniently have your drink floating at your side.
The extra high side walls mean the raft will not tip over.
These floating drink holders fit almost any size cup or beverage.
Extra buoyant rafts will not tip over.
Great for pools, hot tubs, lakes, oceans, spas and more...
Easy to blow up.
Featured Portable Hot Tub - Intex PureSpa 4-Person Inflatable Bubble Jet Spa Portable Hot Tub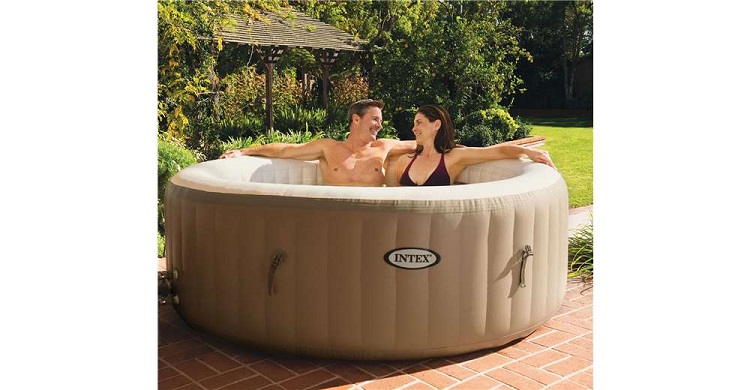 You can relax after a long day of work either at home or at the office in the Intex PureSpa Inflatable Bubble Jet Therapy Spa Portable Hot Tub. This spa / hot tub is comfortable enough for 4 people.
With the touch of a button you can adjust the temperature to that which suits your comfort level and also activate the 120 high-powered, soothing bubble jets that surrond the interior of the spa. The durable Fiber-Tech™ Construction including 48 Fiber-Tech™ beams are strong enough to take a seat on the side and just dip your feet in.
This Intex PureSpa portable hot tub holds 210 gallons of water, has a temperature range from 68 degrees to 104 degrees and the maintenance is simple with just 2 easy-to-replace filter cartridges providing you clean refreshing spa water. The built-in hard water treatment system makes water gentler on your skin and clothes for a smoothing experience.
Treat yourself to a bubbly massage or just relax for a while in this Intex PureSpa Bubble Therapy Inflatable Spa. It will be ready for water in about 20 minutes. It can be deflated for easy storage or transport.
PureSpa heats the air prior to bubbling through the water which heats the water more effectively and the efficient heating systems keeps the cost of usage of your spa low.
There is an insulated cover and lock included to minimize heat loss and provides added safety from unwanted visitors in your spa. Also, a thick thermal protective ground cloth helps minimize heat loss and protects the bottom of the spa.
Approximate inflated Inner / Outer Diameter: 58" / 75" Height: 28".
Complete Hot Tub Package includes:
PureSpa Hot Tub Unit
Spa Insulated Cover
Heating System
3-way water test strips
10W hard water system
Filtration system with 2 filter cartridges
Floating pool chlorine dispenser
Thermal ground cloth
Inflation hose
Cover straps with child security lock
Find the Intex PureSpa Inflatable Hot Tub at: Ebay.com
Affordable Inflatable Hot Tubs
After a stress filled day, nothing beats some relaxing time in a warm and bubbling hot tub. You can become refreshed by just letting the air bubbles or jets work out the stress you accumulated throughout the day.
Inflatable hot tubs are an affordable alternative to the traditional hot tub spa. They are portable, easy to setup and maintain. There are many different modes of hot tubs to choose from with different colors, capacities and features. You can pick the right one for your indoor or outdoor use. With the inflatable hot tubs you can quickly set them up for the weekend and them store them away for the week if you don't have a permanent location for a hot tub. Many are even self-inflating so you don't have to deal with air pumps.
When shopping for your new inflatable hot tub spa don't forget to check out the accessories such as headrest, cup holders and seats.
"Affiliate Disclosure: Most of the links on this site to other retailer sites are affiliate links, which means that if you click on the link and make a purchase at that site I will receive a commission on your purchase. I appreciate and Thank You for your support."
"This website is a participant in the Amazon Services LLC Associates Program, an affiliate advertising program designed to provide a means for sites to earn advertising fees by advertising and linking to Amazon.Com."